Funny Emoji for Emoji Keyboard
2.0.6
Emoji Keyboard – Fresh Emojis for Your Texts and Chats
Do you think your messages lack fun and color? Would you like to make your texts more expressive? If yes, then you should definitely download this emoji keyboard. Funny Emoji for Emoji Keyboard is a fun app which lets you utilize the cool emojis of the color emoji theme of the Emoji Keyboard app. It gives you access to a variety of emojis which are both cute and can express your emotions in a much better manner. You can add them in any of your posts on social media apps like Facebook and Instagram and even use them when writing messages in WhatsApp. Thanks to its simple user interface and user-friendly design and layout, using this app isn't that difficult too.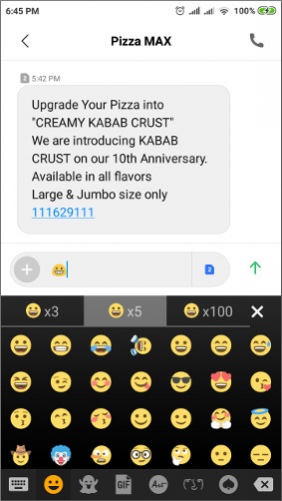 Funny Emoji for Emoji Keyboard is basically a plug-in for the Emoji Keyboard app. So, you need to download the Emoji Keyboard app before you can start using the emojis that this plug-in has to offer. It can be downloaded from the Google Play Store with ease. After downloading the app, you need to first enable the Emoji Keyboard in the Settings menu. You will also need to select it as the default keyboard before being able to use it. Once this is done, you can go to the home screen of the plug-in and then click the Apply button located at the bottom-left corner of the screen. This will allow you to begin using the emojis of this plug-in in all your chats and messages.
This emoji keyboard plug-in offers a wide collection of emojis. There is an emoji available for each emotion. From happiness to confusion and anger, there is an emoji that describes each emotion perfectly. You can insert them into texts and messages just by clicking on their icon. Funny Emoji for Emoji Keyboard grants you the option of inserting several emojis of a single type at once into a message. When you insert one emoji, you will see an option for inserting the same one three times, five times and even a hundred times on the top half of the keyboard. You can click it and have that emoji added into the message. This makes it easier for inserting multiple emojis without having to click their icon multiple times.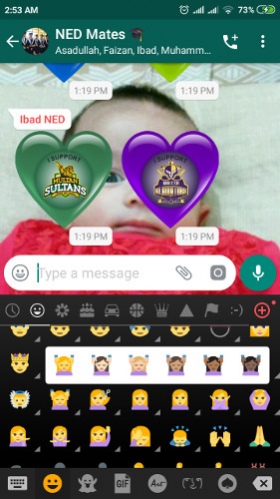 Funny Emoji for Emoji Keyboard is compatible with all the texting and messaging apps. Another great feature of this app is that it provides various skin tones for some of its emojis. This provides you with the chance to have multiple variations of the same emoji in different colors. You can access these different colored variations of an emoji by long-clicking on its icon. It will open up a small pop-up menu in which the different versions will be available. From there, you can use them in your text or message by clicking on their respective icons in the menu. However, do keep in mind that this is not the case for all emojis.
Features:
Emojis available in various skin tones
Compatible with all messaging and texting apps
New emojis added on a frequent basis
Conclusion:
Funny Emoji for Emoji Keyboard is an app which is marketed towards people who love making use of cool and funny emojis in their texts and messages. It offers them the chance to use a variety of emojis and express their feelings in a much better manner than simple words. It is a nice emoji keyboard and can help you in making your texts more fun and expressive.
---
Add a review
Tell us your experience with
Funny Emoji for Emoji Keyboard
2.0.6
RELATED PROGRAMS
Our Recommendations
---
---
---
---